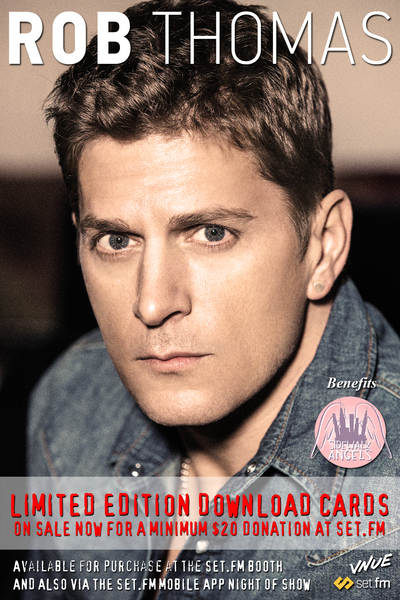 INSTANT LIVE RECORDINGS
ROB THOMAS TO RELEASE
INSTANT LIVE RECORDINGS ON VNUE'S SET.FM
BENEFITING HIS SIDEWALK ANGELS FOUNDATION
VNUE, Inc. (OTC: VNUE), announced today that it is working with international superstar and Grammy-winner Rob Thomas to record several shows in January and make the content available for download immediately after each show via VNUE's set.fm as well as partner PledgeMusic.com.
Thomas is set to perform three sold out shows at Atlantic City's Borgata Casino Music Box, January 12-14th, and VNUE will be there to capture and professionally produce every note. This will be the seventh consecutive year that Thomas has held the shows at the Music Box benefitting his Sidewalk Angels Foundation.
The intimate acoustic shows will feature Thomas performing a range of material from both Matchbox Twenty and his critically-acclaimed solo albums, as well as other material. He has described these shows as "singer-songwriter storyteller events; a shared moment with a small group of people" - and, for the first time ever, fans will be able to immediately take home their experience via the set.fm mobile and digital platform – with all proceeds benefiting Sidewalk Angels.
"We couldn't be more excited to be working with Rob," Zach Bair, CEO of VNUE and "instant music" pioneer DiscLive, said. "He is a dynamic artist with a ton of hits who has previously embraced cutting-edge technology like USB wristbands and more recently a fan-controlled virtual reality experience. VNUE's set.fm is the next evolution."
"Rob has always been a trailblazer in finding new ways for fans to enjoy his shows, first with USB wristbands, and later with innovations such as 360 video and Holograms," Rob's management said. "VNUE's set.fm platform is an emerging technology that adds in a brand new revenue stream providing direct benefit to the Sidewalk Angels Foundation, and Rob is blazing that trail once again."
Fans may pre-purchase the shows now by downloading the set.fm app from the Apple App Store or Google Play, or by visiting the following links:
https://set.fm/artists/rob-thomas
https://www.pledgemusic.com/projects/robthomas
Sidewalk Angels Foundation, founded by Thomas, is dedicated to providing critically needed funds and support to over 20 no-kill animal shelters and animal rescues across the country, that "help to fight for the rights and fair treatment of those with no voice." Proceeds from each and every sale will directly benefit Sidewalk Angels.
Recent News
ROB THOMAS BRINGS ANNUAL SIDEWALK ANGELS BENEFIT SHOW TO THE WEST COAST March 29th, 2019 Chumash Casino Santa Ynez, CA Fan club members will get exclusive first access to concert tickets and VIP upgrades beginning December 14th at 10am Pacific. A...

Rob Thomas and Sidewalk Angels have again partnered with VNUE on the upcoming Borgata shows to offer "instant live" recordings of each night's performance. But this year, in addition to the Collectible Download Cards, VNUE will also be offering Limited Edition DiscLive...

JUST ANNOUNCED : THE 8TH ANNUAL SIDEWALK ANGELS FOUNDATION BENEFIT SHOW January 18th, 19th & 20th 2019 Borgata Hotel Casino and Spa Atlantic City, NJ Fan club members will get exclusive first access to tickets and VIP...

A note from Rob: Sidewalk Angels Foundation has been a labor of love for us for over a decade. Our goal is to continue to raise awareness and help grass roots organizations across the country and Caribbean that work tirelessly to help those with no voice....